So today is a
BIG
day! Although we are more than a little miffed that CBS does not recognize this. I am talking, of course, about the Iron Bowl! Auburn University (Waaaaar Eagle! Hey!) vs. University of Alabama (Booooooooo!). The game of the year. The best that college football has to offer. And it's been especially good these past five years as Auburn has won
five times in a row!
So tonight, at 7pm CST we are looking to make that
six
years in a row. The game was supposed to be on CBS but at nearly the last minute they decided to run something else. So now it is on ESPN and for those of us with kids but without cable this presents a problem. We have sort of figured it out I think, but it may involve bringing some very sleepy children to church tomorrow. It only happens once a year so I think they will make it.
Besides our big game plans tonight involving fellow Auburn alums, George's brother Rick and sister Katie, his best friend Matt and his wife Ali, we are going to the
Great Train Expo
today. We should have gone already. Elspeth is taking what is turning out to be an unusually long nap.

Anyway, to pass the time the kids have been watching Saturday morning cartoons, something they almost never do because cartoons don't come on until like nine or ten in the morning these days. Isn't that weird? Remember how they would come on at like six when we were kids? And by ten they were all over. Anyway, I have been noticing how the toy companies are laying it on pretty thick during the commercial breaks.

Tis the season huh? Anyway, I am so so so so so so so so so glad my kids are not like I was. I have heard nary a declaration of great need or desire for any of the many playthings advertised. And in a two bedroom apartment overflowing with five people, I can tell you that whether they would get the toys or not is not up for discussion! But it is nice to see that they don't especially want them. I remember being love sick over Baby Skates at Amabel's age. I could even still sing the commercial for you if you'd like. I did get my own Strawberry Shortcake roller skates, which I used maybe twice, but I never got the roller skating baby doll, which actually looks strangely like Elspeth! I did get the other doll I was dying to have(whose commercial I could sing for you as well), a doll that was wrapped with a bow tied so tightly that after trying for a minute or two, I shoved it aside unwrapped to open the rest of my gifts. When all was opened, I was rather distressed, heartbroken really, until my mom, who must have noticed the sadness in my face, reminded me of the gift I couldn't get open before. One of my sisters got the scissors for me, we cut the ribbon, and tore off the wrapping paper. And there in my hands was Dream Dancer!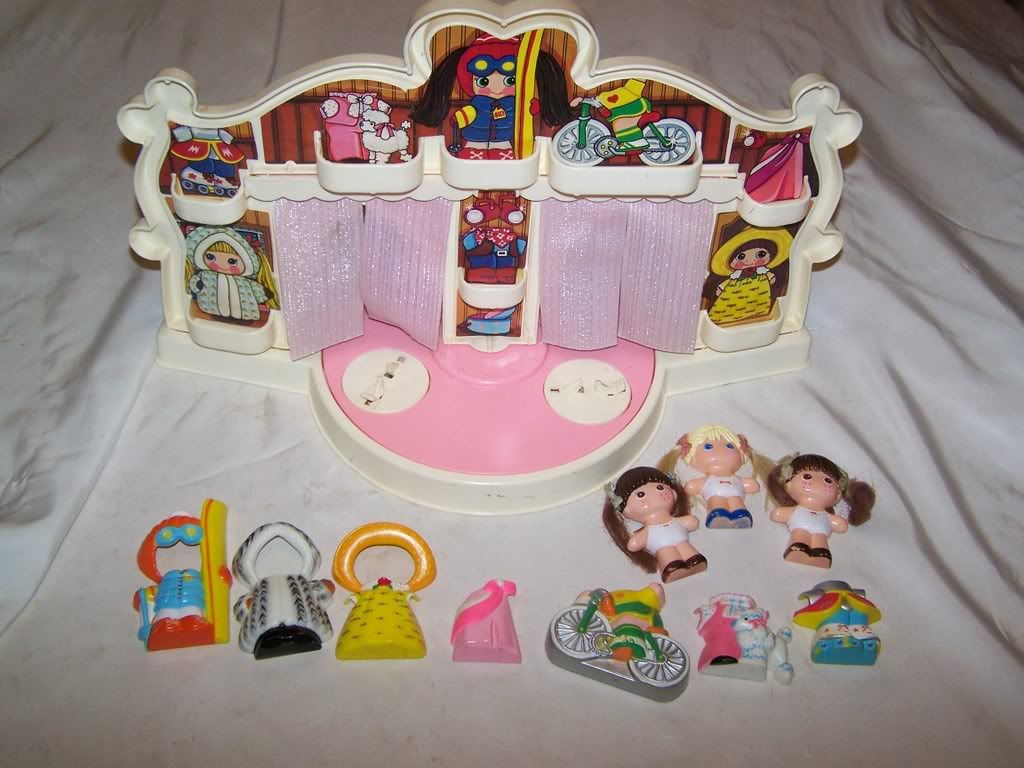 She was a Barbie sized doll that had several mix and match ballet outfits (including purple leg warmers and a purple tank top to match, and a classic pink leotard and tutu) and a hole in one of her pointed toe shoes wearing feet that attached to a purple battery powered stage with a peg sticking out of it. You put the hole over the peg, pressed the button, and Dream Dancer danced for you.

It was awesome! And I found her on ebay! So do not bid on my doll, for she is
my
doll, and I will be purchasing her. But
here is a link
. And in the spirit of old favorites, I did a little shopping around and found some more pictures of other long lost toys. Remember any of these? Strawberry Shortcake's house and bakery and snail with "tea time turtle"?! Dollypops?! The Little People Camper and Circus Train! Good Times! I had all of these (except Baby Skates)! But like I said, I am so glad my kids are not like I was!